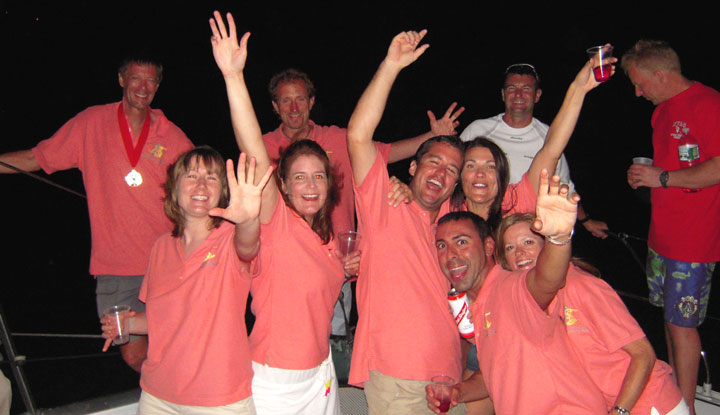 Every winter, we travel to the British Virgin Islands for a week of sailing vacation!  As a Manhattan Sailing School graduate, you are invited to join this trip!
Our School teams up with the Manhattan Yacht Club to organize one week of fun, sun and sailing.  This event is known as "Caribbean Week" and it will be the greatest vacation of your life.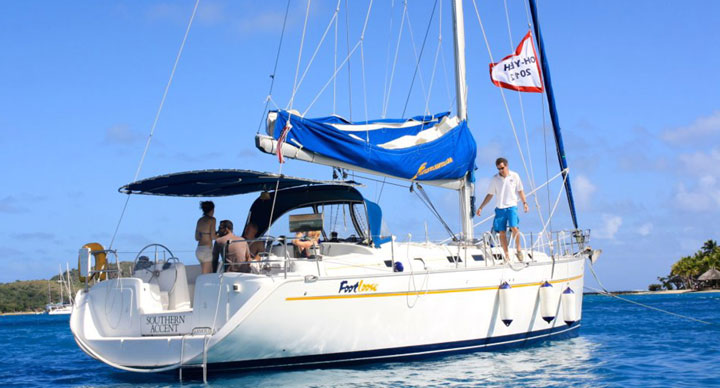 You can also learn a lot more during this great vacation. You can sign up for Basic Coastal Cruising or Bareboat Chartering. Would you like to be skilled enough to rent a beautiful boat and take it sailing with friends or family?  Bareboat Chartering will teach you:
Trip Planning
Living Afloat
Weather & Seamanship
Maintenance Procedures
Maneuvering & Docking
Electrical & Water Systems
Refrigeration & Marine Stoves
Dinghy Use
Anchoring
Course Plotting & GPS

Location – Bareboat Chartering is taught during the winter when we all fly down to sail in the British Virgin Islands.  The BVIs are an excellent place to learn bareboat chartering.  Plus, this is where you will want to bring your friends and family for your own sailing vacation!
Schedule – Bareboat Chartering is offered during Caribbean Week. This is our annual one-week sailing vacation.  Lots of students and instructors participate. Not only is it a great sailing experience, but the parties are world-class.  The regatta is held at the end of January or beginning of February when it is super cold in New York City and we need a warm Caribbean break.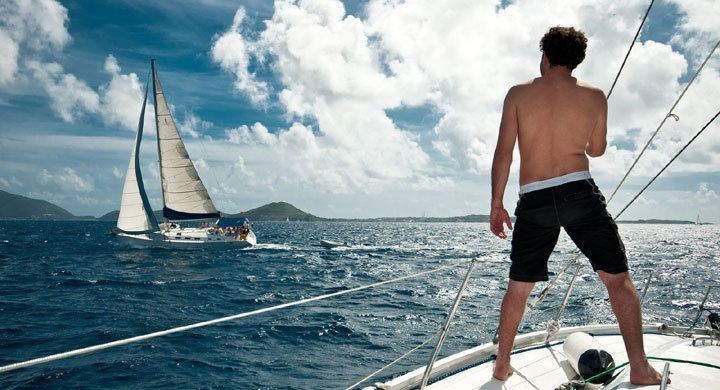 Instructors – Many of our best instructors skipper boats for the Caribbean Week and offer Bareboat Chartering.  Ask your favorite instructor if they plan on going this winter.  If you are not familiar with any of the instructors offering bareboat chartering, we organize a few Pump Up Parties before Caribbean Week so interested sailors can meet the skippers.

Class Size -Each Bareboat Chartering course is limited to the number of people on the charter boat (usually 5 students and 1 instructor).  You will get plenty of personalized attention and hands-on experience.  Plus the sailing conditions in the BVIs are excellent with 18-20 knot winds almost every day.  You will sail a lot!
Boats – We charter boats beautiful mono-hulls from the Moorings, Sunsail and Footloose.  These boats are normally in the 35 to 45 foot range.  Mono-hulls are the best boats to learn Bareboat Chartering.  More advanced sailors sometime begin chartering catamarans.  You will see both mono-hulls and catamarans during Caribbean Week.
Tuition – Tuition for Bareboat Chartering is $350 per person plus the entry fee Caribbean Week (usually in the $1,390 to $1,690 range).
Next Steps – Keep an eye on your email.  The school will let you know when the dates of Caribbean Week are set.  Then you will be able to sign up for Bareboat Chartering.