Manhattan Sailing School has the BEST group of instructors in the country! Our instructors are passionate about sailing sport and want to share it with you!  Here are some instructors you may meet on the sailing school docks. You can request a specific instructor for your course in the "Comments" box on your registration form.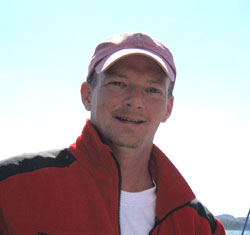 Charles Rolling – Head Instructor

Charles is the Two-Time Winner of the "Boat of the Year" award at MYC Caribbean Week. He has a fascinating background, growing up in Texas as well as serving in the Armed Forces (jumping out of airplanes). Charles taught himself to sail at the age of twelve when he was given a wrecked Soling.  After a year of learning to weld, splice, and  mend fiberglass he raised the sails and began competing on the lakes of Central Texas.  He went on to a life of sailing on U.S. coastal waters, South Africa, New Zealand, Australia and many places in between.  Charles has also successfully raced on many types of boats both large and small with a particular fondness for the close quarters intensity of around the cans racing on one-design keelboats. During the last America's Cup, he was down in Bermuda helping to build the village and be sure to ask him about the time that Warren Buffet and Bill Gates bought him a glass of beer. Charles has been one of this instructors who consistently rates "Life Changing" in student surveys.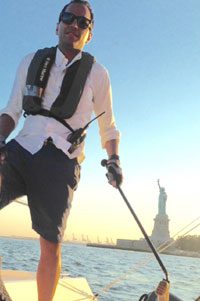 Rubayet Pritom
Rubayet grew up right here in downtown Manhattan but discovered his love of sailing at Lehigh University. Since then, his passion for the sport and his own magnetic personality have taken him around the world, from the Seychelles to the Sea of Cortez, the Mediterranean to the Persian Gulf and many places in between. Rubayet is also an active sailor, racer and Fleet Captain at Manhattan Yacht Club. He recently traveled Monaco Classic Week where Manhattan Yacht Club chartered "Hallowe'en" in Le Belle Classe for the largest yachts. As a Fleet Captain at MYC, Rubayet loves to share his knowledge and joy of sailing with others. When not on the water, Rubayet can be found out hiking, climbing, flying or doing something in Finance.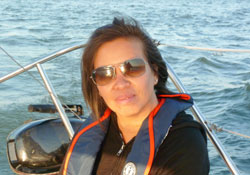 Sonya Mesommonta
Sonya began racing in Long Island Sound many summers ago in an informal manner. Then she enrolled in a Basic Keelboat course to understand what everyone on the boat was so enthusiastically yelling about. She joined Manhattan Yacht Club in 2004 and has sailed on a regular basis ever since.  Sonya earned her skipper privileges in 2008 and has enjoyed sailing with and mentoring other members, many of whom have also gone on to become skippers and racers as well. Whenever she travels, Sonya looks for an opportunity to sail. Manhattan Yacht Club has reciprocal clubs around the world. Sonya knows that once you're a sailor, you have connections with other sailors around the globe! Sonya has also become one of the skippers in the MYC Caribbean Week.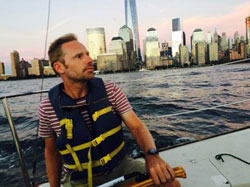 Aaron Hansen
Aaron is a filmmaker based in NYC and Cape Town, South Africa. He first began sailing in Cape Town when his friends gave him a "Learn to Sail" certificate for his birthday. He couldn't get enough of riding the Holiday 34′ through wind and water next to Table Mountain. So, In between film shoots, he worked his way up through RYA certifications to become a part-time instructor for the same sailing school. He ran Power Boat, VHF and Basic Sailing courses to students aiming for Super Yachts in the Mediterranean. He eventually sailed a Leopard 48′ Cat 7,500 from Cape Town to Belize to get back to the USA. Now, based in NYC, he is at home in the Hudson and enjoys sharing the sailing adventure with new students.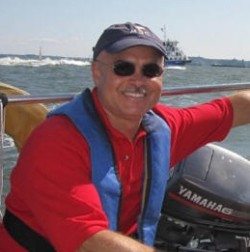 John Carlson
John grew up in the Yachting Capital Of The World, Fort Lauderdale FL, but only sailed once or twice on Hobie Cats. The majority of his sailing experiences have happened right here in New York over the past 22 years as a member of Manhattan Yacht Club. Since joining the club, both racing and cruising sailboats have become a major part of his life. John has cruised and raced in various locations throughout the Tri-state area, Florida , California, the Caribbean and the Bahamas. The boats he has raced or cruised include J24s, J27s, J80s, J105s , J120s, Etchells, Beneteaus and Hunters. John has been teaching at Manhattan Sailing School for the past couple of years.  Sailing is his passion. The most rewarding times he has is taking friends sailing and teaching them how to sail so that they can enjoy the sport as well.
Keith Cooper
Originally a Seattlite, Keith has extensive sailing experience on a variety of boats on both US coasts and waters worldwide. He is a USCG licensed 50 Ton Master and an ASA Instructor Examiner with over 20 years teaching experience. Keith has skippered several MSC Caribbean Regattas, always with an incredible crew…maybe that will be in your sailing future! Keith has also been a ski instructor and other interests include travel, competitive cooking, white-water rafting, fishing, hiking, golf and tennis. Through his teaching experiences, Keith has developed a style that focuses on your goals while being supportive, informative, entertaining and fun. He believes it is important that people get the knowledge and skills to become good sailors, but also have a great time, because that's really what sailing is all about.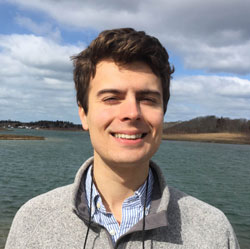 Carl Byers
Carl was born in Wisconsin. He co-founded the sailing team at Lawrence University in Appleton, WI where he studied Economics. While in Appleton, Carl taught new teammates to sail. Since moving to New York, he's taught at Manhattan Sailing School each season. In 2015, Carl was the main school administrator and helped with the transition to our new main home in Jersey City. This will be his fourth year teaching with MSS. He helps run his parents pottery business, Byers Stoneware and Porcelain in the off-season. Carl also rocks at sewing, playing tennis and watching Seinfeld.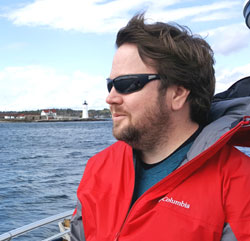 Kevin Podany
Sailing has always been Kevin's first love. As a young boy, he spent many summers sailing on the lakes of Western Pennsylvania with his father. When he turned 18, he worked as a Deckhand with a riverboat company in Pittsburgh and that was the start of his career in the maritime industry. He moved up in ranks to Mate, Captain and eventually moved on to working on the Great Lakes. Before long, the search for adventure and the open ocean brought him to places like Estonia, Djibouti, Bangladesh, the Suez Canal and a whole lot more. He even lived and traveled all over South East Asia for about two years before returning to the States for good. Kevin finally settled down in the Greater New York City area and that's when he rekindled with his love of sailing once again. He currently holds a USCG license and works at one of the container terminals at the Port of New York. Even though his job is now land based, sailing out on the water and the yearning of the wind on his face is still very much in his blood. Hence, he spends most of his time off work doing just that. With over 19 years of maritime experience, Kevin looks forward to teach you all that he knows and I am pretty sure that you too will fall in love with this wonderful world of sailing!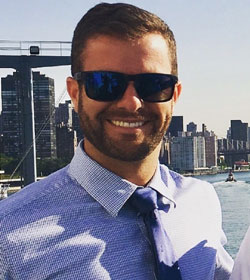 James Britton
Growing up on the Jersey Shore allowed for James to have many opportunities in the sailing community. He began sailing Optimists at the age of seven, which laid the foundation for a career of racing and teaching. He sailed competitively on his high school's and college's teams, which afforded him the ability to travel around the country seeing all different venues for the sport. James has been teaching sailing for 15 years, which has come to be his true passion. He has taught and coached sailors of all ages, on various boats in NY harbor and down the Shore. He returns to us after a hiatus of a few years of traveling the world for work as a Merchant Mariner. He now works as a captain in New York Harbor with a 1600 ton Masters license from the USCG. He looks forward to sharing his passion for sailing with his students in his home port.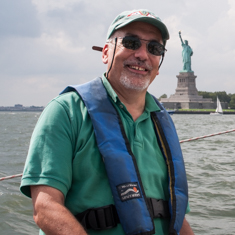 Frank Sinks
Frank grew up sailing at a summer home on a small lake in Michigan.  He joined the Manhattan Sailing Club in 1999. Frank became a skipper a few years later and joined the Fleet Captain program where he taught the basics of sailing to many members. That experience of sharing his knowledge made him want to become a sailing instructor. Frank has sailed in the Florida Keys, the Bahamas, Greece and New England. He has sailed on J24's, sloops and catamarans. he has the ASA Basic Sailing and Coastal Cruising certificates and has taken the Basic Racing and Intermediate Sailing courses at the J World. Through the school and the Manhattan Yacht Club, Frank has met many new friends and has spent most of his summer months sailing in the harbor. He hopes to share his enthusiasm and knowledge of sailing with you.  When not sailing, Frank is a computer consultant and photographer.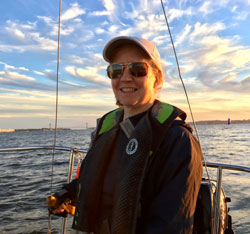 Sara Burke
For someone who grew up in the driest, flattest, brownest part of Texas, Sara has spent a surprising chunk of her life seeking out adventure on the water. As a kid she found her water fix whitewater kayaking and canoeing rivers in Texas, New Mexico and Colorado. In college she built plywood sailboats and collapsible kayaks to explore the waters of the Pacific Northwest from Oregon to Canada's Queen Charlotte Islands. On the East Coast, Sara has been a skipper at Manhattan Yacht Club since 2012, where she is a fleet captain, J24 race skipper, Caribbean Week skipper, International One Design enthusiast and member of the 12-meter America II Boat 42. "I am the sailor I am today largely because of the many opportunities available through Manhattan Sailing School and Yacht Club. If I can sail, you can sail. This is an amazing experience I want to share!"
Kristof van Winden
Kristof is a part time sailing instructor with us. During the weekdays, Kristof works as a civil engineer in Manhattan. He joins us on some week nights and weekends to give lessons. Since learning to sail in the Netherlands in the early 2000s, he has gained experience sailing on various bodies of water in the Northeast. Kristof is looking forward to a great sail season!
Chris Henkel
Chris started sailing on lakes in Texas. By 10, he was single-handing a small dinghy and his passion for sailing took off. His early  days included cruising the Florida Keys and Bahamas and racing most weekends. In the late 1980s, Chris was introduced to the Laser and the exciting life of competing in one-design regattas. As if sailing most weekends was not enough time on the water, Chris enlisted in the US Navy right after high school and spent 17 of his first 24 months at sea. Decades later, Chris is still actively sailing and racing. He has competed in hundreds of regattas across the country and trained with some of the top sailors in the sport. He is currently training to compete in a few national and international regattas later this year. Chris moved from Texas to New Jersey in 2009 when he took a job in Manhattan. He was introduced to MYC when his colleagues chose sailing as their annual team-building activity in 2015. Chris won all four races and the following year he was asked to skipper their corporate team racing J-24s out of MYC each Thursday evening. Chris is excited for the opportunity to share his passion with people interested in the wonderful world of sailing.
Patrick Cahill
Patrick is studying economics and finance at the University College in Dublin where he is also the captain of the college sailing club. He was brought up around boats and has developed a lifelong love of sailing. In racing, Patrick has finished at the top of many regional and national championships. He has raced Lasers as well as SB20s and 1720s. He just recently represented Ireland at the Student Yachting Worlds. So if you want to go fast on a boat, Patrick is your person! Before coming to our school, Patrick has been coaching at the Royal St George Yacht Club and Baltimore Sailing Club. He has taught all levels ranging from beginners to experienced racers.
Conor Kneafsey
I'm currently studying Electronic Engineering in University College Dublin. I started sailing when I was 7 years old in an optimist. I spent a few years sailing and racing it before I moved on to Toppers, then Laser 4.7s and Laser Radial. I've also raced keelboats extensively in 1720s as well as Beneteau 31.7s. I'm currently team racing with my college in Fireflies. Throughout my time spent racing, I went to numerous international events including the Topper World Championship in Workum, Netherlands. Most recently, I competed in the Student Yachting Worlds in Marseille earlier this year. I have been instructing the past 3 years in the National Yacht Club and Baltimore Sailing Club teaching all ages and levels. I'm looking forward to instructing in Manhattan and can't wait to be over there.