How long are your courses?
Our most popular course, weekend Basic Sailing, is taught over one weekend on Saturday & Sunday from 9:30 am to 5 p.m.  Most students are from the metropolitan area who are educated, motivated and learn quickly. They are also busy and like to commit only one weekend to sailing until they are sure they love it! Weekday evening courses are 1 day per week for 5 weeks.
Do your courses offer ASA certification?
Yes. At the end of many courses, you can challenge the appropriate American Sailing Association standard. If you pass, you will receive an ASA certification seal for your log book. If you do not pass on the first try, you can challenge the standard again for no additional charge.
I already have some sailing experience, what course should I take?
If you have sailed before but never had any formal education, you should probably enroll in Basic Sailing. You could also take our Intro to Sailing course. Even though you may already know some of the information, these courses will fill any gaps in your sailing knowledge and let your practice more.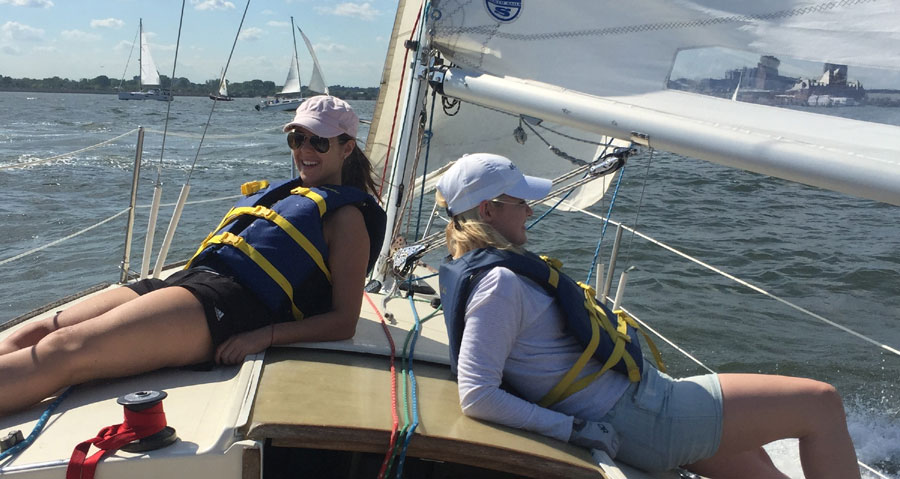 How far in advance should I sign up?
We recommend that you sign up 2 weeks in advance.  The issue is really signing up before the course you want sells out.  You can see how many spots are still available in each course by clicking on the course number. Enrolling early also gives you enough time to receive your course materials and get a head start on your sailing education.
What happens if it rains?
Inclement weather is usually not an issue for sailors. There are many times when forecasters predict doom and gloom and we wake up on Saturday morning to find beautiful sailing conditions. When forecasters predict rain, it might only be for an hour to two. Rain is no cause for alarm. The bigger issue is wind. We have an upper wind limit of 25 knots for sailing in the harbor. If we decide to reschedule a day of sailing, we will email you the day before. But usually, we meet on Saturday morning and try to go sailing. Even if it starts out with some rain, the educational process can still move forward until the weather improves.

What type of clothing do I need?
Most people have all the clothing they need in their wardrobe. A windbreaker, sweatshirt, t-shirt, jeans and shorts will get you started. You should also have some type of boat shoe or a sneaker with light-soles which will not mark up the boat. More detailed information on clothing as well as other recommendations are included in the Course Manual which is emailed to you after you sign up.
How can I keep sailing after my course?
You have many options to keep going after Basic Sailing. Our next level course is Basic Coastal Cruising.  You can also sign up for the Learn to Race, Bareboat Chartering and more.  Don't forget to start dreaming about De Caribbean Regatta which is a week-long sailing vacation in the wintertime.  If you are already hooked on sailing, then the best value is joining Manhattan Yacht Club. The club is a great social organization of sailing enthusiasts and members can sail on the club fleet and participate in the many club sailing and social activities.

Is there an age limit?
Students should be at least 18 years of age for our adult group lessons.  There are also junior sailing programs for younger students.  If you wish to enroll a junior in one of our adult lessons, please call the school office to discuss at 212-786-0400.
What if I'm sick on the day and can't make it?
If you can't make your course at the last minute, please call to let us know so the rest of your team is not kept waiting at the dock for you. Then you can follow up with the office. We have a rescheduling policy and will try to switch you to another class.

Will I have fun?
Yes.
Is sailing cool?
Yes.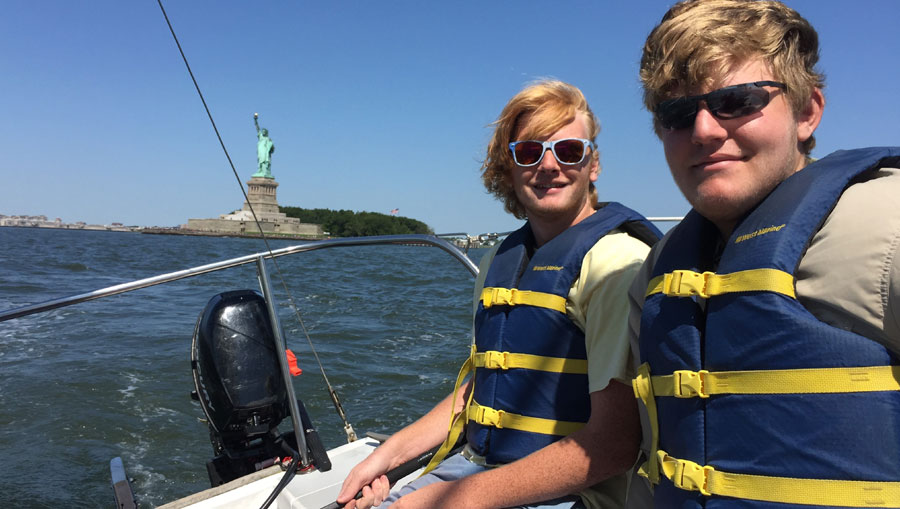 Will I be amazed by sailing past the Statue of Liberty and towards the skyline of Manhattan?
Yes!