Your sailing career starts here! Basic Sailing is the foundation for all your future sailing knowledge. The subjects you will learn in Basic Sailing are: 
Sailing Terminology
Points of Sail
Rigging & Derigging
Hoisting & Trimming Sails
Tacking & Jibing
Sailing by the Lee
Proper Commands
Docking & Securing a Boat
Important Knots
Basic Navigation Rules
Man Overboard
Course Schedule – We offer 3 schedules for Basic Sailing. Weekends are the most popular.
Weekends – one full weekend, Saturday & Sunday from 9 am to 7 p.m.
Weekday Evenings – choose Monday or Thursday for 5 weeks from 6 pm to dusk.
Weekdays – two consecutive days, Monday & Tuesday from 9 a.m. to 5 p.m.
Check the Basic Sailing Schedule to see which course works best for you.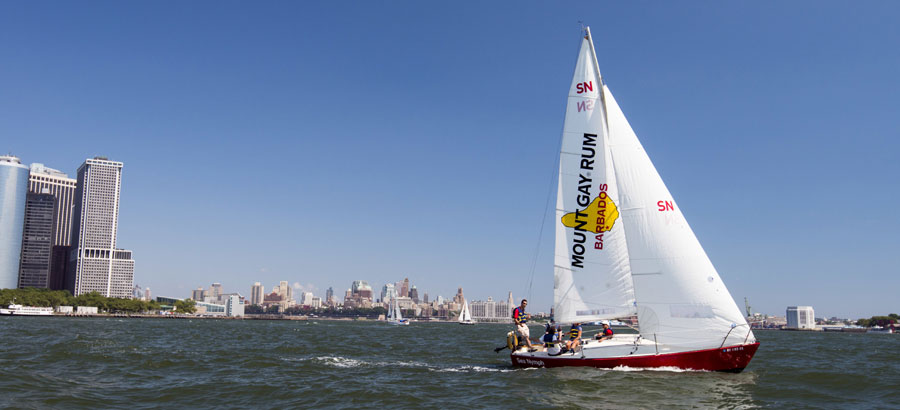 Instructors – Our instructors are trained professionals who specialize in communicating the concepts of sailing in a relaxed and informative manner.  Read some of our instructor bios.
Class Size – Each course is limited to 4 students per instructor. You will get plenty of personalized attention and hands-on experience.
Boats – Basic Sailing is taught on J/24 sailboats.  These are the most popular sailboats in New York Harbor.  They are fast and sleek and the water equivalent of a Porsche.  By learning to sail on a J/24, you can easily transition to membership in Manhattan Yacht Club and continue sailing on their fleet of boats.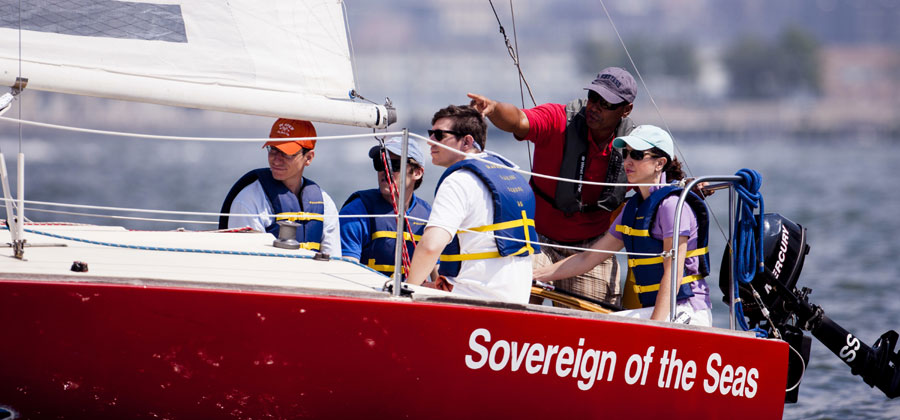 Locations – Students meet their instructors in 2 great locations in New York Harbor.
Jersey City – Our main location is at Liberty Harbor Marina in Jersey City – the sailing capital of New York Harbor. This is a full marina where we have our floating clubhouse, calm water and the Manhattan Yacht club nearby. If you are coming from Manhattan, it is worth the trip and easy to reach by ferry or PATH!
Manhattan – Our second meet-up location is Battery Park City in Lower Manhattan.  Students meet their instructor at the World Financial Center ferry terminal at Vesey St and the Hudson River. Then you buy your tickets and ride the ferry across directly to the Manhattan Sailing School docks.
Tuition & Discounts – The tuition for Basic Sailing is $440 per person from Jersey City and $490 per person from Manhattan. You can also take advantage of group discounts.  If 2 people sign up using the same registration form, you each get a 5% discount. If you are 3,then you get a 10% discount. Four people get a 15% discount! This discount only applies when you sign up using one registration form.
ASA Certification – If you wish to get certified, you can also challenge the American Sailing Association Standard for Basic Sailing at the end of your course. The ASA certification fee is $50 when you sign up for it in advance and $75 if you pay for it on the day of your course.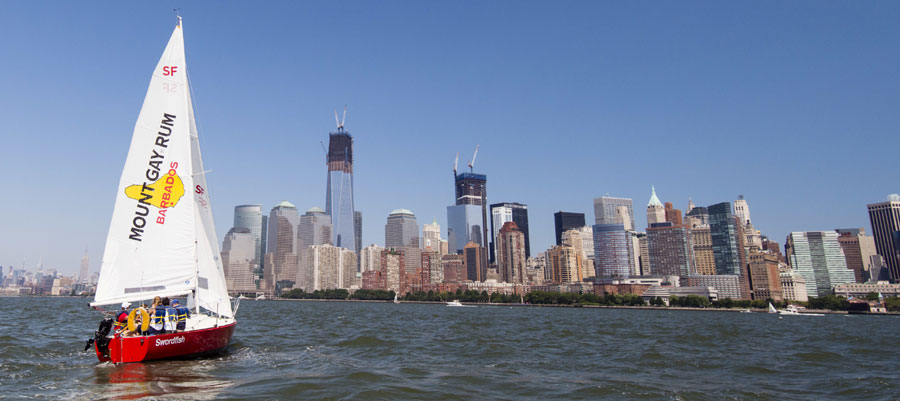 Guarantee – We stand behind our Basic Sailing course 100%.  If you are not completely satisfied, Commodore Michael Fortenbaugh offers this money back guarantee.
Rescheduling – You can reschedule your course up to two weeks in advance at no charge. Within the final two weeks, there is a $50 rescheduling fee. Within the final two days, the rescheduling fee is $100.  You can cancel a course up to two weeks in advance and we will refund you the tuition less a $50 course material and processing fee. Within the final two weeks, the cancellation fee is $100. No cancellations are permitted within the final two days.
Next Steps – Find the course which fits your schedule.  Start by visiting the Schedule Page.  Then sign up today!