Every sailor should know and understand the fundamentals of Coastal Navigation. This course will help you keep track of your vessel's position and predict where you will be in the future. Coastal Navigation will teach you:
Navigation Tools & Techniques
Charting
Dead Reckoning
Fixes
Tides and Currents
Sailing with Current
Tide and Current Tables
Variation & Deviation
Danger Bearing
Using a Pelorus
Aids to Navigation

Location – Coastal Navigation is taught in a classroom setting.  We will be teaching this course in the heated and well-lit Manhattan Yacht Club clubhouse at Liberty Harbor Marina in Jersey City.
Class Size & Instructors– Each course is limited to 6 students (and can be increased to 12 if there is a waiting list), so reserve your spot soon.
Schedule – Coastal Navigation is offered on Sundays for 3 weeks in a row.  The class runs from 9:30 am to 5 p.m.  There will be coffee breaks as well as a break for lunch.
CN3 – March 11, 18 & 25, 2018 – SOLD OUT!
1. Edward Yennock
2. Silvia Esparrachiari
3. Nicolas Gno
4. Ken Mahoney
5. Jeffrey Pagliaro
6. Katie Murphy
7. Olga Kondrashova
8. Orlando Ivey
9. Jon Anderson
10. Stephen Mohr
11. Ed Thompson
12. Frances Whisnant
CN2 – February 11, 18 & 25, 2018 – SOLD OUT!
1. Paul Bailey
2. Rachael Millar
3. Alex Mallari
4. Andrew Gilpin
5. Richard Long
6. Nosh Petigara
7. Kristin Bye
8. Andrew Roberts
9. Max Bulmash
10. Grayson Hoffman
11. Jamie Hoffman
12. John Vincenti
CN1 – Oct 22, 29 & Nov 5 – SOLD OUT!
1. Nadiya F
2. Henry T
3. Richard S
4. Scott F
5. Wouter B
6. Derek L
7. Birgit A
8. Maurus M
9. Bruno F
10. Jennifer N
11. Boris B
12. Angus S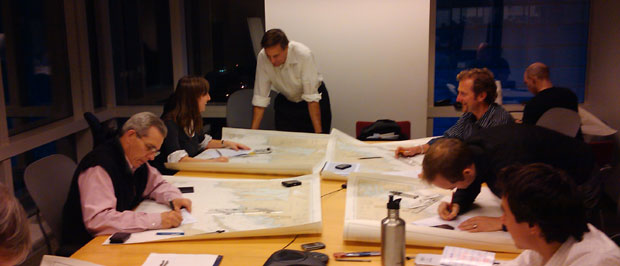 Tuition & Course Materials – The tuition for Coastal Navigation is $460.  There is also a $125 charge for materials.  The total charges for this course are $585.  The materials you get to keep at the end of the course are:
Coastal Navigation: Advanced Cruising Techniques by Mike Pyzel
Two training charts
Parallel Rule
Divider
ASA Certification – ASA certification is included in the price of this course.
Rescheduling – You can reschedule this course up to four weeks in advance at no charge. Within the final four weeks, there is a $150 rescheduling fee.
Next Step – Register today!